Apricot tartlet with almond cream
It's said that fresh apricots are the healthiest fruit on this planet. Only 100 gr of this beautiful orange coloured fruit gives you 12% of vitamin C, 12% of vitamin A, and 6% of potassium required by the body – all this under less than 50 calories!
They are smaller than most other stone fruits. Their skin is soft and slightly furry, but they can be eaten without having to be peeled. They taste sweet too without being too juicy.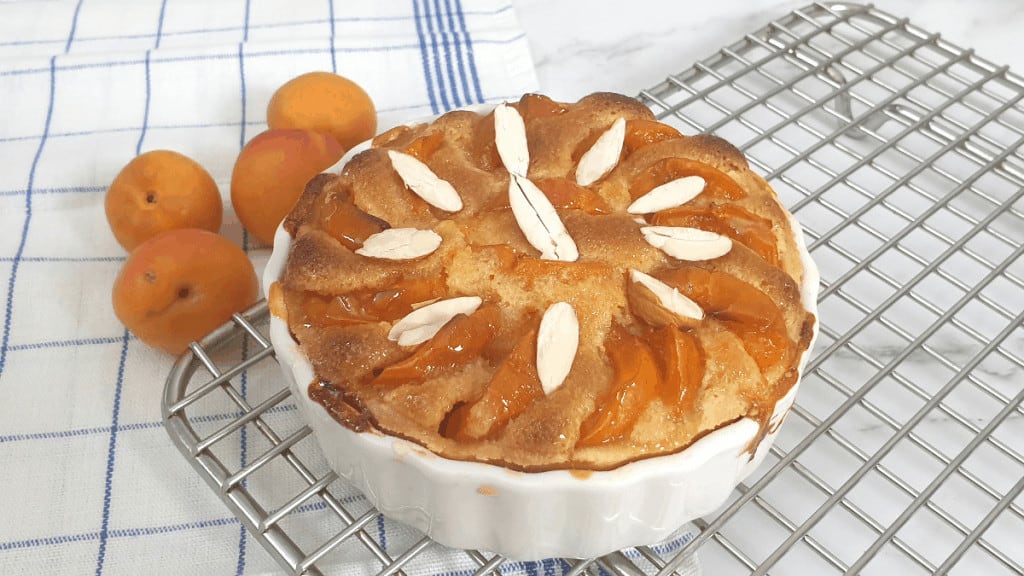 The harvest season is quite short and although history says that China was the original cultivator, research also identifies apricots as discovered by the Persians, and the Armenians also claim the origin of apricots. Whatever the truth, we don't really care so long as we can find them in season. Besides, they now grow all around the world and the dried and canned variations are available continually.
The apricots we got hold of were very small and very sweet. That is the reason why we prepared a small tartlet. It looks better, it's easier to control cravings while we are paying attention to our healthy 'diet' ????.
Be aware that the baking time may vary if you have a static conventional oven or a ventilated convection oven. The tart mould can also influence the baking time depending on if you are using ceramic or metal.
Find the recipe of Almond cream and sweet shortcrust pastry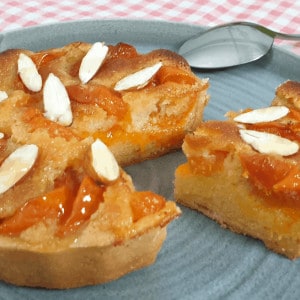 Apricot tartlet with almond cream
Apricots and almonds are a perfect match. The skin is soft and slightly furry, but they can be eaten without having to be peeled. They taste sweet too without being too juicy.
Instructions
Prepare the crust
Brush 4 x 10 cm diameter tartlet moulds with butter and coat with a thin layer of icing sugar. Refrigerate.

Roll out the shortcrust dough to 1-2 mm on a lightly floured working surface. Cut 4 discs of 15 cm.

Cover the bottom of each tartlet mould and gently press with your finger so the dough adheres the sides.

Trim the excess dough with a knife at the top of the rim.

Prick the bottom of the tartlet lightly and refrigerate for 30 minutes.
Prepare the filling
Wash and cut the apricots in half and remove the stones.

Use a piping bag with a nozzle N7 to divide the almond cream equally into the 4 tartlets.

Arrange the halved apricots on the cream.
Baking
Warm the oven to 180°C and bake the tartlets for 20 minutes.

Lower the temperature to 160°C and bake for another 20 minutes.
Glazing
Melt the apricot jam or jelly in the microwave and brush it over the baked tartlets for a nice shiny finish. Garnish with some almonds.
Nutrition for 1 portion
Calories:
383
kcal
Carbohydrates:
73
g
Protein:
9
g
Fat:
7
g
Sodium:
488
mg
Fiber:
4
g
Sugar:
16
g
Vitamin A:
2428
IU
Vitamin C:
13
mg
Calcium:
29
mg
Iron:
4
mg
Tried this recipe?
Let us know how it was! #culinaryambition