6 Ways to Turn Your Garden into an Al Fresco Dining Experience
Summer is here! Time to dust off the grill, sweep the patio, hang some fairy lights, and create that Instagram-worthy outdoor dining space you've always dreamed of. There's just one problem… Where to get started? Would you prefer a rustic look, or a posh bistro with flowers and candles at every table?
Whatever style you're looking for, there are a few things your al fresco dining space needs to be complete.
Outdoor Furniture for Patio Dining
Unless you are part of a new movement of standing eaters, you're going to need some place to sit while you enjoy all the delicious food you plan on serving. For a smaller crowd, you can never go wrong with a bistro set. This modern metal bistro set is weather-resistant, easy to clean, and you can dress it up with colourful cushions. Looking for something more ornate? Then you'll love this set that comes in a beautiful tulip design.
If you're planning on entertaining plenty of people, and often, then you're going to need something with more seating capacity. This picnic table and bench set is available in different sizes. You can even line them up end to end to create your own personal biergarten! For a seriously large crowd, you might consider a lovely space-saving sofa and table set that seats up to ten guests.
Grills, Stoves, and Everything Else You Need for Cooking Outside
Things have come a long way since your father's charcoal grill. Now, you can find a high-quality propane grill with or without bells and whistles. Add some basic grilling tools, and you've got yourself a multi-functional cooktop that will help you make everything from kebabs to wagyu.
Not interested in adding "grill master" to your resume? Outdoor cooking doesn't have to taste like outdoor cooking. A versatile griddle or an outdoor pizza oven will expand your al fresco menu considerably.
Keeping the Bugs Away from Your Garden
You've got your furniture, the food is sorted, and you're ready to enjoy some delicious bites al fresco. The only problem? The bugs seem to want some bites, themselves! Luckily, there's plenty of options to keep them at bay.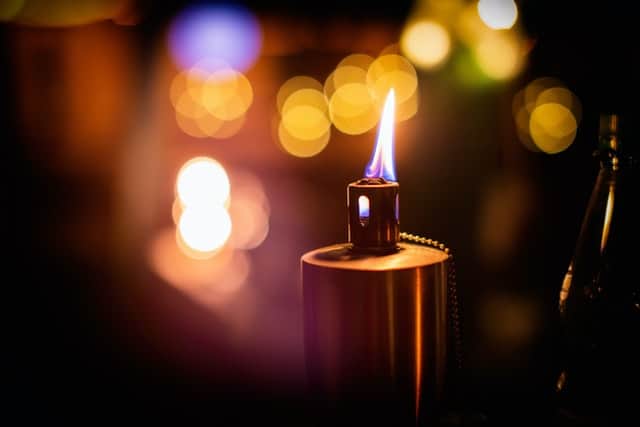 Your eco-conscious bug repellents can be sorted into two categories: electric and citronella. Citronella is a naturally-derived bug repellent with a pleasant scent. You can purchase incense sticks to create a bug barrier around your dining space, or these tiki torches that double as chic lighting for your patio. Not interested in making your garden smell like citronella? This highly-rated electric bug barrier will do the job with no flames and no scent.
Outdoor Lighting
For parties that go into the small hours of the night, lighting is essential. The classic hanging Edison bulbs are a very popular look, and add a bit of whimsy to your garden. However, they don't always provide enough light for larger patios. That's where these solar powered flood lights come in. They're compact, easy to install, and will keep your patio lit from dusk 'till dawn.
Keeping Cool with Cocktails
Now that your al fresco dining space is set up, it's time to add some fun and unique items to really elevate your experience. And, speaking of elevating (your dining, your mood), what dinner party is complete without cocktails?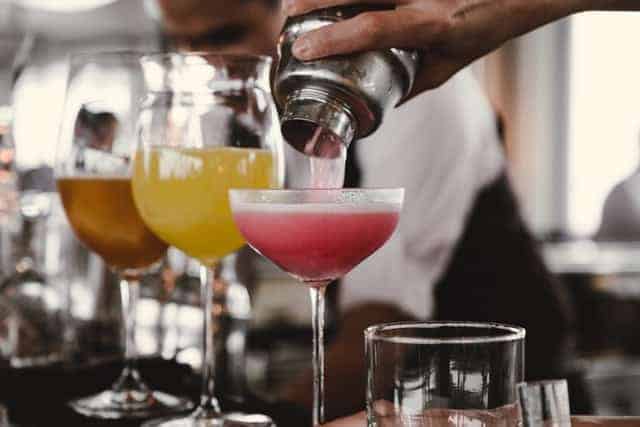 A fully-equipped bar cart can carry everything you need in one compact, weather resistant place. These stainless steel bar tools, ice bucket, and glasses aren't just sleek and cool, they're insulated and shatter-proof making them perfect for cocktails al fresco.
If you've got a table of true foodies to impress, why not try a smoking gun to add a subtle smoky flavour to your cocktails, as well as meats and cheeses?
Al Fresco Dining for Small Spaces
Living in a small space does not mean you can't live a larger life outdoors! All the items we recommended above have smaller, compact versions that can be folded and stored to give you the outdoor dining experience without many bulky appliances and furniture.
Starting with seating, this foldable picnic table set is stylish, compact, and folds almost completely flat for easy storage. Folding bistro sets provide all the charm of your preferred coffee shop in a tiny-but-mighty package.
If you're able to have an open flame on your patio, this stand-up grill folds up neatly, and doesn't require another piece of furniture to stand on. If you need to opt for electric, this griddle will give you all the convenience of a cooktop while taking up no more space than a large frying pan.
Happy Dining!
With a little love, any patio can become your new favourite room for the summer. Enjoy your ultimate al fresco dining experience!